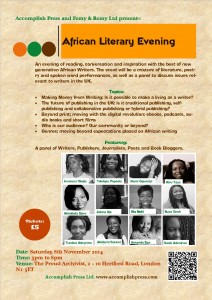 Hello folks! Hope you've all been doing great. I've been very busy, in my last post I mentioned I was planning a writer's event in London. Well, it finally happened! I was quite nervous about co-hosting and doing a reading on the day, but thankfully I got over my nerves long enough to last till the end of the evening :)
Here's a full recap of how it all went:
Last Saturday
Accomplish Press
and
BlackandOutspoken
hosted our first "African Literary Evening" @ The Proud Archivist in London. It was a great event, as we had in attendance: writers, readers, journalists, publishers, poets, bookshop owners, members of the press and people who love writing and literature, especially those who have an interest in promoting African literature to the world.
We had two panels discussing issues that are relevant to writers of African descent, based in the UK. The first panel was coordinated by
Tundun Adeyemo
and consisted of:
Kemi Ogunniyi
,
Nuzo Onoh
,
Irenosen Okojie
,
Amanda Epe
and
Kiru Taye
.
They discussed topics regarding Genres, Reaching an Audience, and The power of Blogging as a means of building an author platform.
The second panel was coordinated by me,
Tolulope Popoola
, and consisted of:
Sade Adeniran
,
Abidemi Sanusi
,
Abimbola Dare
and
Ola Nubi
. We discussed issues such as Going beyond Print to tell our stories, New and different routes to Publishing, and Making it as a full-time writer.
(Click here for a download:
Programme for African Literary Evening
)
(Click here for a download:
African Literary Evening Panel Members
)
The panel discussions were interactive with the audience, and we had great responses, interesting questions, thoughtful contributions and many useful suggestions about the way forward in tackling some of theses issues. In particular, many people in the audience talked about a shortage of good books for African children and Young Adults, featuring African characters, morals and storylines that reflect our background. This is something that Accomplish Press is passionate about, and we will be doing something in the near future to address this gap in the market. We're already starting a new campaign titled
"Get Young People Reading"
. Watch out for more announcements about this programme very soon.
Back to the event, there were interesting readings as well:
Ola Nubi
read an excerpt from her forthcoming book: "Love's Persuasion". It is a romance story about characters based in Nigeria. It will be published next month by Ankara Press.
Theresa Lola
, a spoken word artist, performed two of her poems. One was dedicated to the girls of Chibok who were kidnapped so many months ago, and the other was a deep reflection on the power of womanhood. Everyone in attendance really enjoyed her performance.
Sade Adeniran
read a short story, one of the stories from her collection in the Sade's World Podcasts. It was a story that reflected on a character's reaction to being fired from her job on the first working day of the new year.
Tundun Adeyemo
read a poem from her collection, "The Immigrant" which described the farewell moments at Murtala Mohammed Airport as a character was about to leave Nigeria to study in England.
And I read two of my favourite flash fiction stories, one from the collection titled "Fertile Imagination" and another one published by Brittle Paper titled "The Alibi". I enjoyed reading the stories and I particularly liked the response I got from the audience at the end.
The evening ended with a networking session over drinks, book sales and signings.
We would like to say a very sincere
Thank You
to everyone who made this event possible. To the panel, the guests, friends who helped in really practical ways, to Battabox, Nigerian Watch, Mr Babatunde David Adetoye, the staff at The Proud Archivist, AUK Radio and many others. We really appreciate your help and support. We intend to host another event like this very soon, we'll keep you posted!
Read some of our attendees' comments about the event:
Obi and Titi
-
African Writers Literary Evening
Adeola Akintoye
-
A Literary Evening Extraordinaire
Watch the video below (and read the blog post) by
Battabox
. They interviewed some of the guests and asked them an important question:
I'm still waiting for the feedback from Nigerian Watch, when I get it, I'll update this post. I'll also upload more photos and videos as they become available.
That's it! Thank God that went well, On to bigger and better things next :)